4) May be used to develop social-emotional skills: confidence/self-esteem, stress relief, impulse/ self-control, appreciating differences, mutual respect, listening skills/following directions, group cooperation, social involvement, working as a team/group cohesion, build relationships, responsibility, sharing, taking-turns, focus attention.
Reference: Core SEL Competencies
5) Promotes/supports the occupations of Play, Social Participation, Instrumental Activities of Daily Living (health management and maintenance), and Rest & Sleep. Rest & Sleep are supported by decreasing stress. Sensory skills (propriocetion, tactile, vestibular, auditory, visual) are also targeted. Fine and gross motor skills, strength, and endurance including eye-hand coordination can also be addressed.
Reference: Occupational Therapy Practice Framework: Domain and Process (3rd Edition)
Additional reading: Social Emotional Learning by AOTA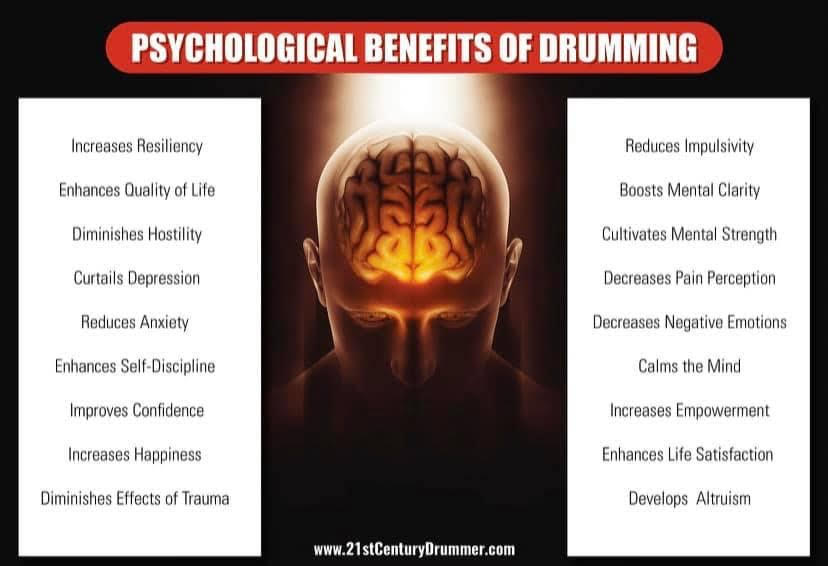 What is a Drum Circle?
A drum circle is a rhythm-based event that utilizes a variety of hand drums and percussion instruments to empower a community of participants with the ability to create beautiful, spontaneous music. Drumming and cooperatively creating rhythmic based music as part of a group is a kinesthetic activity that involves everyone regardless of musical experience or ability.
A drum circle benefits individuals by connecting them to a common purpose of creative self-expression. Drum circles are routinely utilized by community groups, corporations and organizations, support groups, children, youth at risk, well and unwell elderly, teachers, religious groups, college student groups, to name but a few. All of these groups have found the power that drum circles have to create an environment for joy, expression, team building, stress relief and communication.
Source: Drum Circle Facilitators Guild