"Jorge, I am usually teaching when ya'll are having the Drum Circle. I want to tell you BRAVO! Well done! You have helped so many people through this because I have people coming in to Sam Ash asking about the Drum Circle all the time and folks coming in 2 hours prior to the start time just really looking forward to it!! You have made a difference in so many peoples lives. Keep on Drumming!!!"
- Jeffrey Crib, Teacher of Percussion for Cultural Arts San Antonio Parks and Recreation & Sam Ash Music Store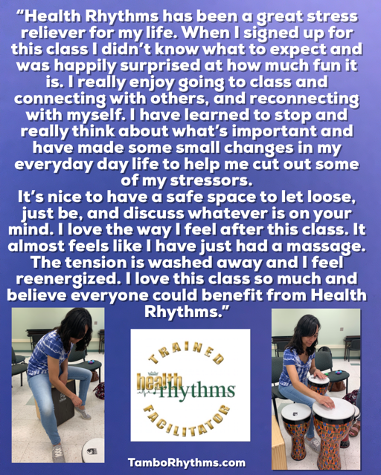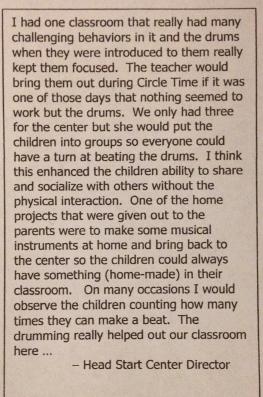 "Going through cancer treatments and the drumming soothes, calms, & energizes me! I feel GREAT!" -Bobbie Davila, Licensed Professional Counselor
" We loved the class. It has helped our son follow directions, pay attention more, and learn basic shapes, colors, and numbers in a fun and energetic way. He is also very sensitive to sound, and it has helped him tolerate loud noises (an added benefit)." - Kelly N.
"Drumming has been an amazing experience for my class. I remember one of the very first times my class was able to drum. One of my students who has autism went right up to Mr. Ochoa after the session was over and gave him a hug. For many this may not mean much but for this particular student who was very stand offish with men, this was a huge step." - Jessica Z.
" Mr. Ochoa makes the most of every drum circle. That is why I continue to bring my own personal clientele to experience his skills/the environment he facilitates in action. My clients usually begin with hesitancy but end up asking, ' when is the next drum circle?' " - Janna C. (Music Therapist)
" Your drum sessions bring out a wonderful positive energy that is greatly appreciated by young and old!" - Natasha Bridges, United Way Kids Festival Planning Committee Member