My goal is to raise funds to offer free or reduced pricing on sessions for those with a mental illness and/or special needs (including, but not limited to intellectual/cognitive , developmental, behavioral/emotional, physical disabilities, and sensory impairment) on a local/national/international level either in person or virtually.
My vision is to give these individuals an atmosphere of connection, belonging, and joy through the power of rhythm! A pledge of $1/month (or whatever you wish) will help make this vision possible. Any amount is most appreciated.
Businesses/organizations that have supported this project: The Second Homeschool for Personalized Learning , Hang Indoor Playground , Your Therapy Source, Inc. , Your Fitness 365 , New Creation Therapy
Organizations that have received services from funding: SA Life Academy , Special Reach Inc. , Depression and Bipolar Support Alliance San Antonio , Down Syndrome Association of South Texas, Alamo Head Injury Association, Raeme's Transition Services, Autism Community Network
PLEASE NOTE: Since TamboRhythms is not a non-profit or tax exempt entity, it is to my understanding that your contribution cannot be tax-deductible.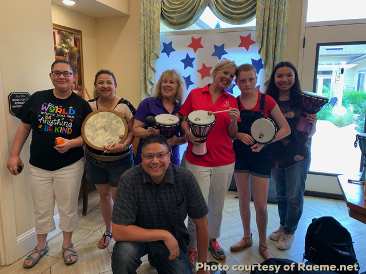 Donate monthly at Patreon.com/TamboRhythms or give a one time donation through Paypal at tamborhythms@yahoo.com or Venmo at @tamborhythms.
Thank you for your support and generosity!