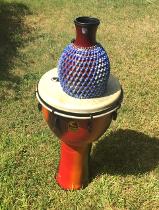 Living Faith Community Church
Center Stage possABILITIES
KLRN
The Acorn- A School for Young Children
The San Antonio Clubhouse
Northeast ISD Community Learning Center
University of Toronto (Drumming & Percussion For Health and Rehabilitation via Skype)
Children's Rehabilitation Institute of TeletonUSA
Monticello Academy
The Neighborhood Place

Sam Ash Music Store
Gathering Post Church
Trey's House: Club House with Individuals with Acquired and Traumatic Brain Injury
St. Andrew Presbyterian Church
2nd Saturday Converse Art Show

San Antonio Independent School District Early Childhood Education Health & Wellness Fair
Children's Lighthouse Learning Center
Hug Me Inc.
CityChurch San Antonio

Partners Resource Network
Westover Hills Rehabilitation and Healthcare Center
Trinity University
Our Lady of the Lake University
San Antonio Metropolitan Ministry, Inc.
Summit Christian Center
Bridges of Support
TeamAbility
Community Bible Church (Axcess: The Special Needs Ministry)
The Ecumenical Center For Education, Counseling, Health
The ARC of San Antonio
ArtPace
Autism Treatment Center

Northside ISD (Adult and Community Education Center)
The National Autism Association of Central Texas (San Antonio Branch)
Bexton Place Retirement Housing
Siver Creek Manor Nursing Home
Amber Oaks Assisted Living
Dominion Village Community
Dominion Village Retirement Community
Braun Oaks Swim Club, Inc.
Morningside Meadows Retirement Community
Children's Lighthouse Learning Center
Inclusion is Sweet
Tobin Center for the Performing Arts
Family Partners of Hudson County
The American Occupational Therapy Association
La Casa de Maria y Marta for asylum seekers
South San Independent School District
Lowell Academy
National Alliance on Mental Illness (NAMI)
Brooke Army Medical Center
The University of Texas Health Science Center at San Antonio
The University of Texas at Tyler
Sapphire School
St. Helena's Early Enrichment Program
Any Baby Can
Integrating Movement-Based and Learning Strategies: An Evidence-Based Approach to Enhance Engagement and Function in Children and Teens by June Smith OTR/L (workshop)
PreK 4 SA
Discovery School
The Circle School
San Antonio Public Library
Edgewood Independent School District
Southside Independent School District
Eva's Heroes
The Point Park & Eats

Texas Dept. Of Assistive and Rehabilitative Services (Division for Blind Services)
Willows Developmental Center residents
Boerne Earth Day Celebration
disABILITYsa
Hearts Need Art
Partners Resource Network
SA United 03 RIASA soccer team
Communities in Schools Staff Development
National Down Syndrome Congress
HEAD START (60 Centers)
The San Antonio Zoo School
The Dominion Country Club Summer Camp
St. Anthony Learning Center
Boerne Patrick Heath Library
Crisis Center of Comal County
Urban Connection
Council for the Blind
AccessAbility Fest
Family Services Association
United Way Kids Festival
Spectrum Community
VFW Hall #4700 Summer Family Party
Chabad Center for Jewish Life & Learning
San Antonio Museum of Art
FreeBorn Church
Hang Indoor Playground
San Antonio Lighthouse for the Blind and Vision Impaired
SA Life Academy
Special Reach Inc.
Alamo Head injury Association
Chronic Pain Resource Center of South Texas
Depression and Bipolar Support Alliance
NAMI South Dakota
Christian Evers Elementary